A stunning wooden staircase adds class to your home and a distinctive theme. It's also a good investment, because if you ever plan to sell, it adds value. Wooden stairs, however, take more maintenance than stairs built from other materials, although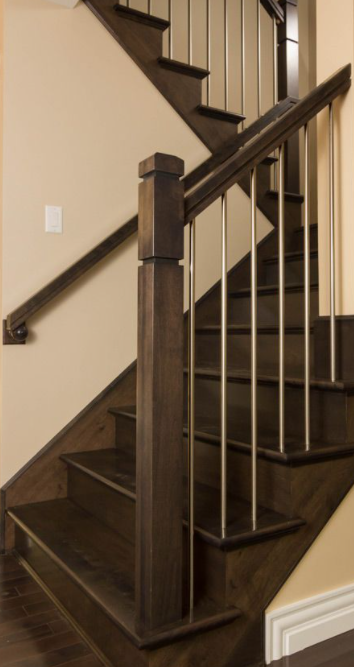 they are inherently sturdy. Here are few tips from hardwood floor installation in Cleveland, OH, on how to maintain it if you're thinking about building a wooden staircase in your interior or exterior area. For a long time, it's only through careful care that will keep it looking its best.
Indoor Wooden Staircase Repair
Find out the sealant used on the wood before you start cleaning your wooden staircase, so that you use the right cleaner. If the wooden stairs have a surface finish, polyurethane sealant is typically used and on the surface there is a shine. The sealant used is an oil or wax if it is a penetrating finish, and on the wood there is a matt look.
With a dust mop or a frayed-tipped broom, begin by sweeping off the dust and debris. Start with the staircase at the top and work your way to the bottom. Then dampen your micro-fibre mop slightly with plain water and clean the stairs. Dry the stairs immediately with a soft rag to prevent water intrusion into the wood. Next, on a micro-fibre mop, use a huge volume of cleaning fluid and scrub all the stairs individually. Wait until the cleaning solution gets soaked for a few minutes. Take a big dry rag after that and clean off all the stairs for the third time.
Outdoor Wooden Staircase Repairs
The wooden outdoor stairs are exposed to sun, humidity, dust and other elements. It's more susceptible to wear and tear, and algae or mildew growth. Once every 1-3 years, ensure proper cleaning and sealing of the surface of your outdoor stairs.
Cleaning your indoor stairs is the same as cleaning your outdoor wooden staircase. Sweep away the stairs and deck thoroughly with a dust mop. To remove sticky dirt from the crevices, use a pressure washer. From your nearest hardware store, you can get a pressure washer.
However, if on the outdoor stairs there is a growth of algae or mildew, don't use a pressure washer as it may erode the wood. Scrape it off with a putty knife in order to scrape the algae. Then clean the infected area with coarse steel wool mixed with warm water soaked in mild soap. Rinse and thoroughly dry. For the elimination of algae, you may also use oxygen bleach. Oxygen bleach does little damage to the wood's colour and wellbeing. As per the manufacturer's instructions, blend powdered oxygen bleach in warm water and add the solution to the stairs. For 15 minutes, keep it on. Then wipe off and rinse with the aid of a garden hose with a brush. Wipe it dry with a clean rag and apply a synthetic resin sealant after a couple of hours.