If you have the space, your basement will become everything you want it to be. However, the reality is that not everyone has a lot of extra money to put up new walls and lay down new floors. You don't have to leave your cellar unfinished and unused just because you don't have an unlimited budget. Suggested by basement foundation repair Columbus, OH, make use of your DIY skills to come up with cost-effective ways to finish your unused space.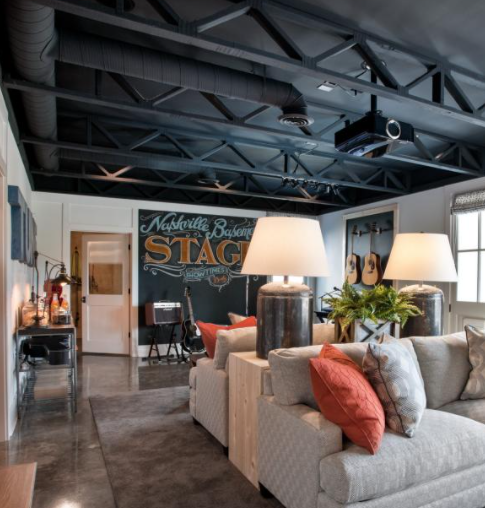 The Ceiling
A cellar with exposed ducts and pipes appears unfinished, but ceiling installations can be costly. Because you'll need a professional to hang a drywall ceiling properly and securely, it can be expensive. Although hanging a drop ceiling is less expensive, it still necessitates some ability to ensure proper installation.
Painting the ceiling is the simplest DIY project. Pipes and ductwork can mix in better with a fresh coat of paint, making them less visible. Use the same color on the walls as the furniture to hide the exposed areas.
The Walls
To install drywall, you don't need to be a pro; all you need to do is make a solid frame for each wall out of 2x4s.
Begin by putting one on the floor to mark the location where the wall will be built. Along the length of this board, place 2x4s upright. Every 16 inches, these studs should be placed.
Next, nail drywall panels to the studs where the edges of the drywall meet the studs. Using drywall tape, tape all of the seams. Cover all of the nail holes and drywall seams with mud. The walls can be coloured after the mudding has dried.
Even DIY drywall may be out of your price range. If this is the case, get creative by dividing your basement with room dividers and fake walls. Hinges may be used to connect tall wooden shutters. They can be painted to make attractive decorative screens. Alternatively, you can try a variety of other low-cost room divider options to achieve the desired look.
To find other room dividing solutions, look for items you can repurpose and reclaim at thrift shops and yard sales.
The Floors
Unfinished basement floors can be made to look cozier in a variety of ways. Vinyl press-on tiles are cheap and simple to install. Use chalk lines to ensure a straight path while laying the tile, and the end result should be satisfactory.
Another choice is to purchase a large area rug, or many.
Use laminate to create a lovely basement floor for even less money. Laminate has the appearance of hardwood but is a fraction of the cost, and it's easy to install because it snaps into place. You might be able to finish a large portion of the basement in one day if you work efficiently and hard for a few hours.
The Accoutrements
The first step in making a finished basement is to get the ceilings, walls, and floors in order. To finish your room, you'll need to add furniture. There are a few suggestions to keep in mind if you want to stay within your budget.
To begin, look online and in thrift stores for inexpensive items that can be repurposed or used as is. With a fresh coat of paint or a new stain, even old furniture will look new again.
Second, purchase items that can be used for various purposes, such as a sideboard table with storage baskets underneath.
Finally, make a mismatched look work for you by mixing different styles and using bright colors to produce a funky design.
Your DIY budget basement will be finished once you've added the furniture.